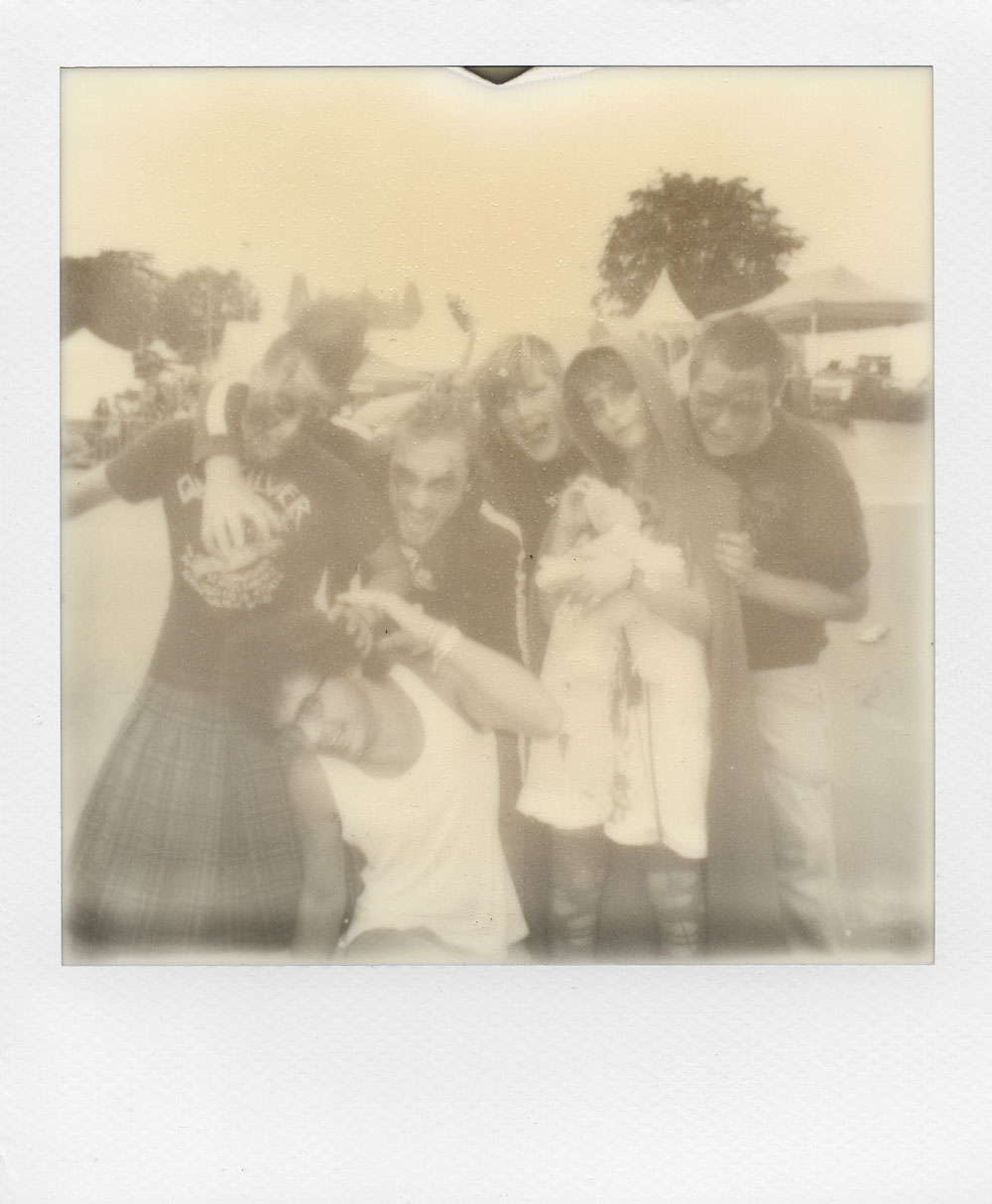 1. Zombie Escape at festival Aniamasia 2013. This is my first Impossible photograph ever, using the old Impossible B&W film for 600 cameras, mostly known as "PX 680 Silver Shade Cool". I bought two boxes of that film, which was on sale because it was expired, and also because their new product line has started to be designed. I totally did not know what I was dealing with, but I sure was trusting the Impossible Project about their product. Anyway, without them, they wouldn't be any instant film left for the classic Polaroid cameras, right? Then, we just have to accept and enjoy their products, as there is no other choice! And I'm okay with that, yes. :]

Camera: Polaroid 636 Talking Camera
Film: Impossible PX680 Silver Shade Cool (expired)
Year: 2013
Info: unshielded, flash fired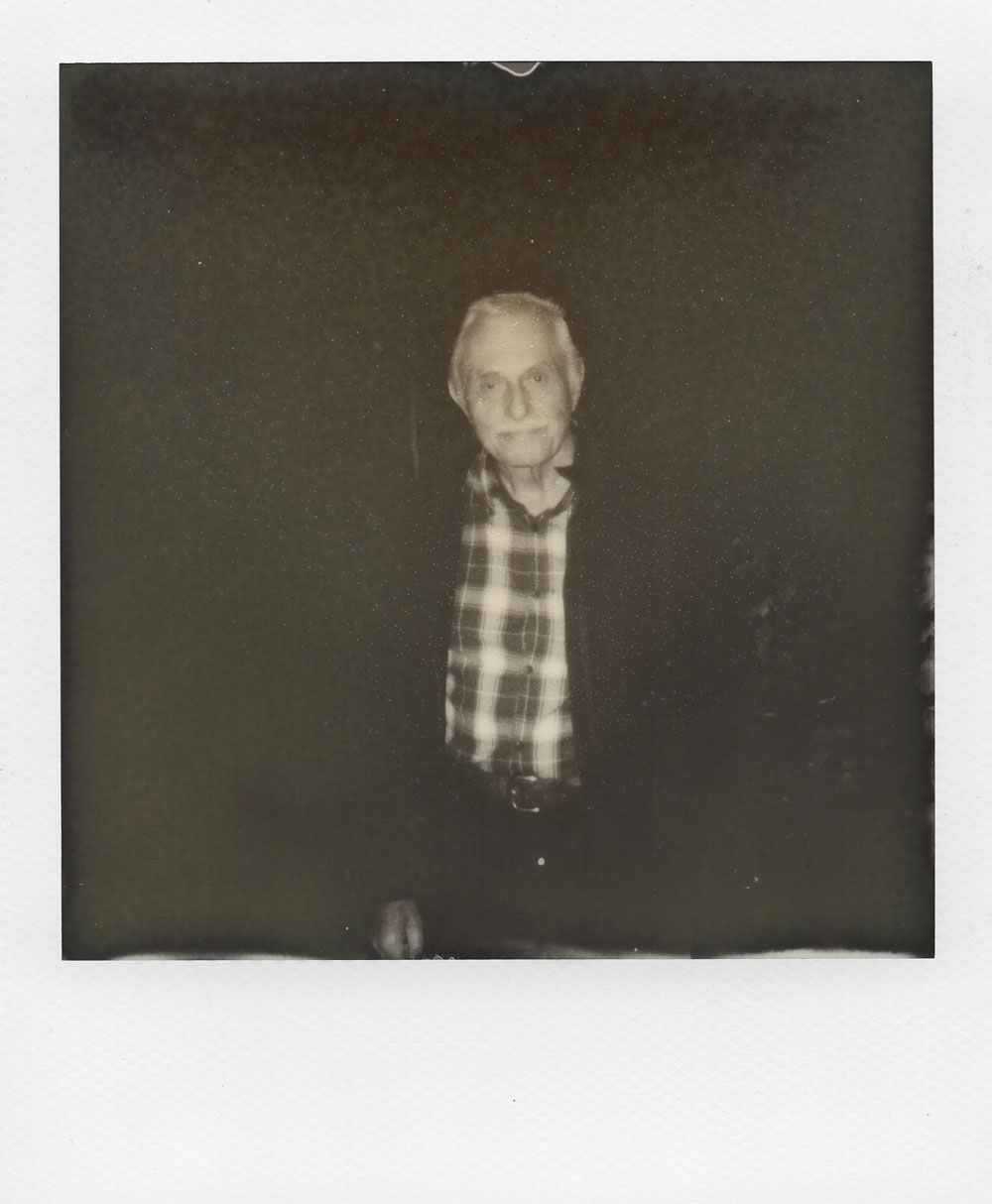 2. Here is my beloved grand father. I asked him for a shot and I didn't know how the camera's flash unit would react so I tried to shoot outside, in the dark. It turned very dark as well, but we can see my grandpa, smiling. :)

Camera: Polaroid 636 Talking Camera
Film: Impossible PX680 Silver Shade Cool (expired)
Year: 2013
Info: unshielded, in pitch dark night with flash on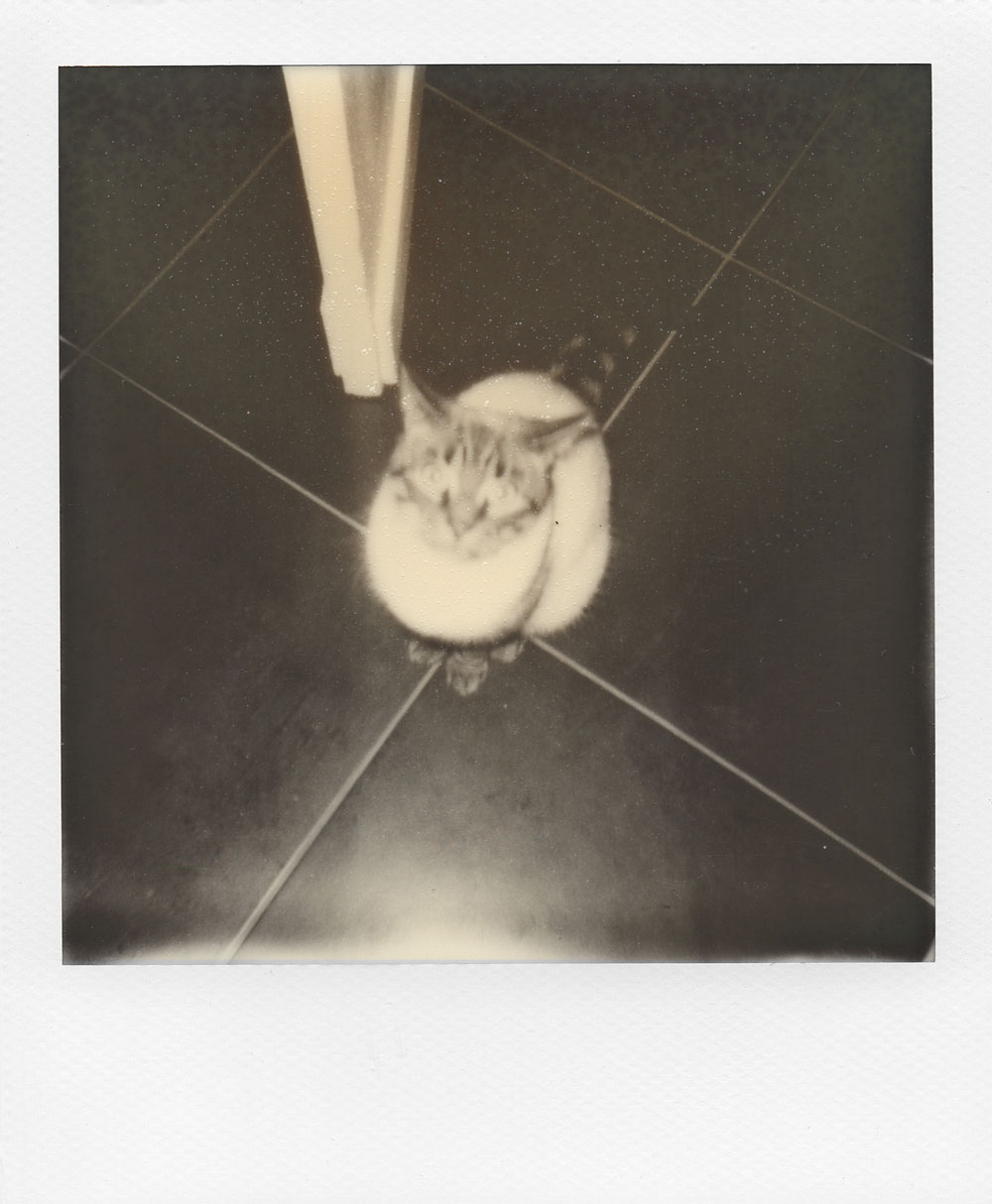 3. Tigrou, one of my cats. He can be really cute but also a bit dumb somehow, but still, I love him. ^-^

Camera: Polaroid 636 Talking Camera
Film: Impossible PX680 Silver Shade Cool (expired)
Year: 2013
Info: shielded, indoor with flash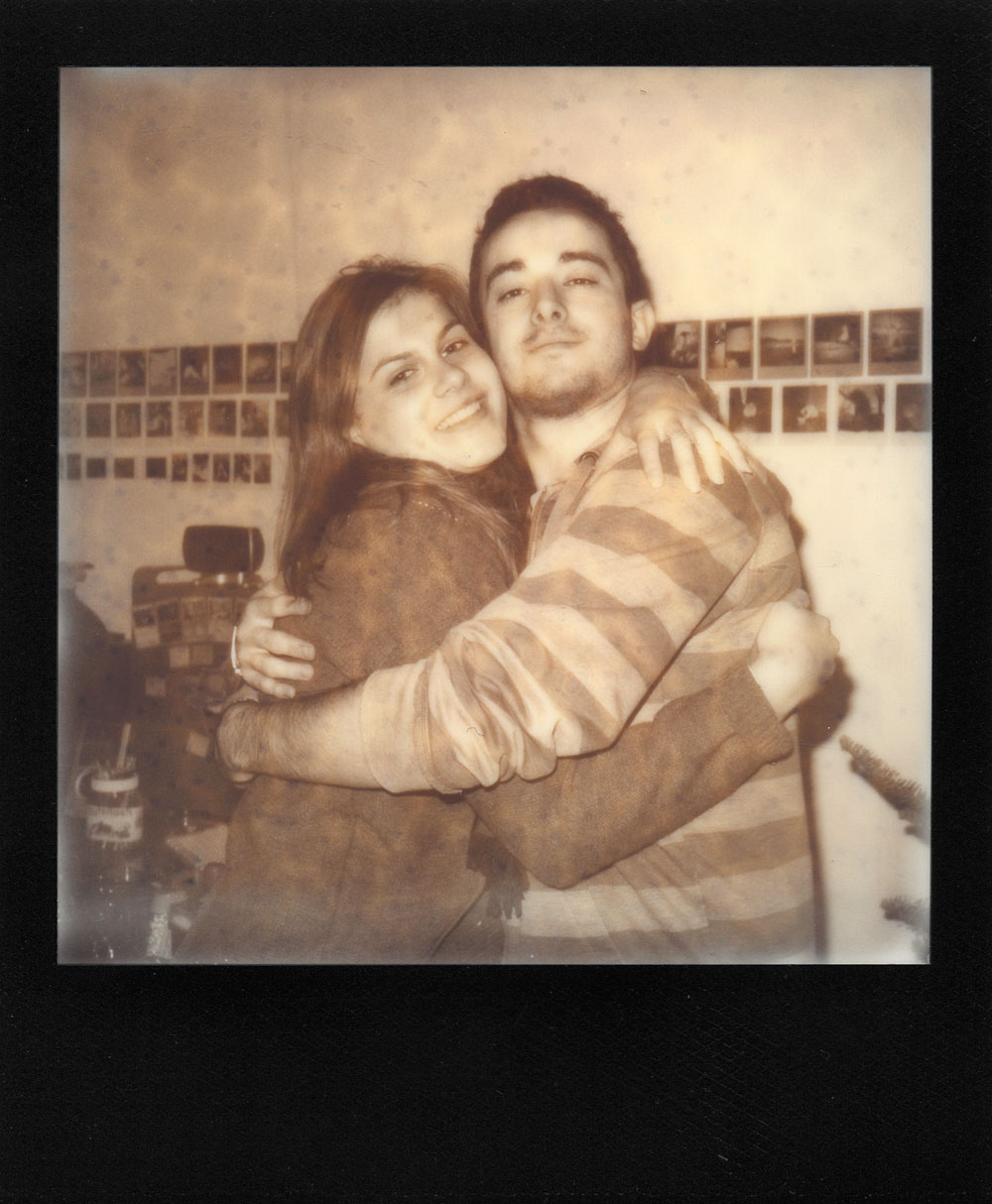 4. Here you can see my first black & white shot using my Polaroid SLR 680 camera! It was also the first I was shooting the Black Frame edition and I totally adore it. Plus, the way it turned sepia is exciting! I'm in love.  By the way, the girl is Paulina, my best friend. <3

Camera: Polaroid SLR 680
Film: Impossible 600 BW Black Frame (2013, not expired)
Year: 2014
Info: shileded with flash on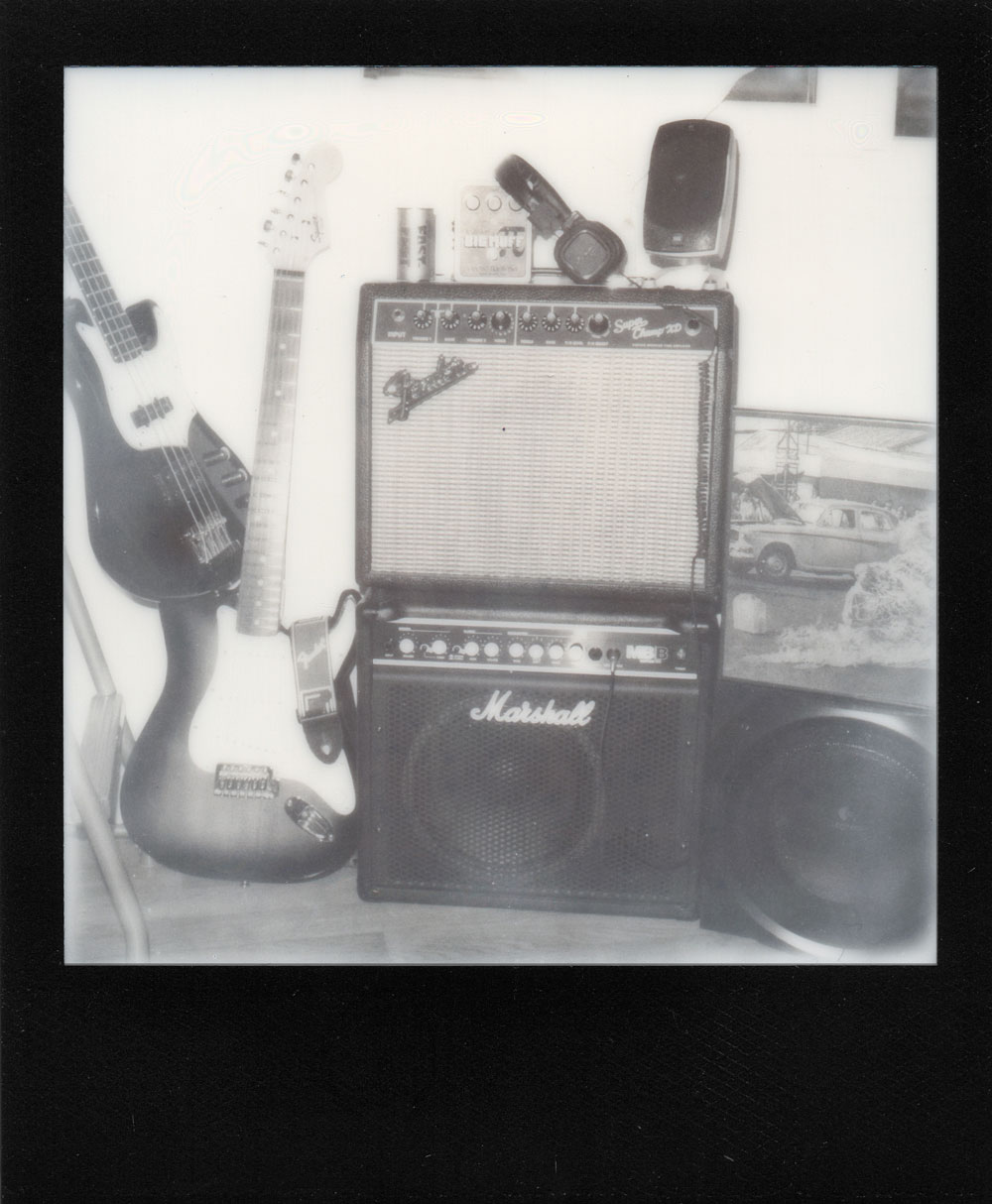 5. Some of my actual and past music rig. The photo never turned sepia too much. It's a rare one where the white is near a "pure" white. That's strange because the rest of the pack was sepia. This was the last frame to shoot. I thought that maybe something's related to the battery inside the film pack?

Camera: Polaroid SLR 680
Film: Impossible 600 BW Black Frame (2013, not expired)
Year: 2014
Info: shielded, this frame never turned sepia!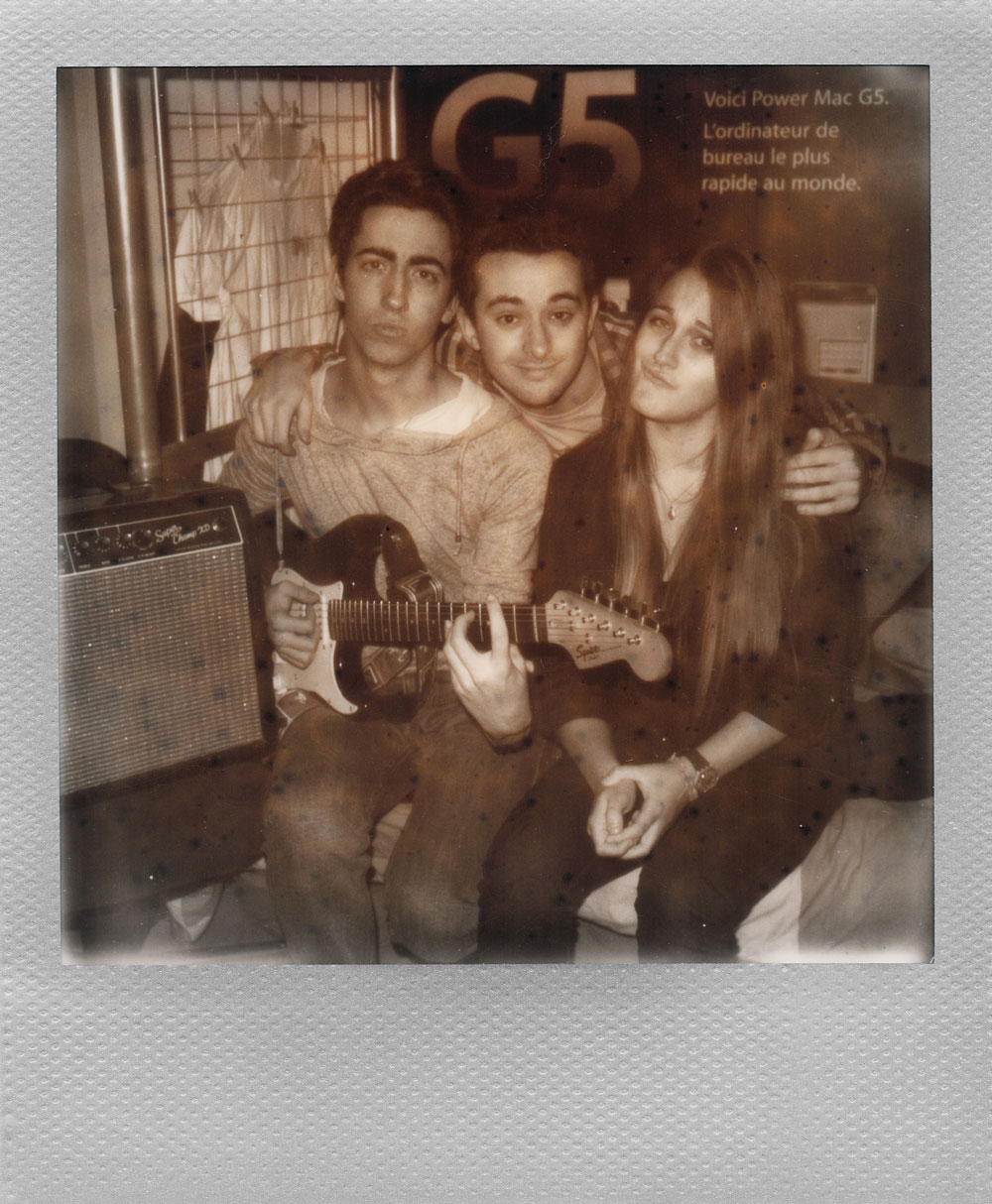 6. Chilling with my best friend Maxime and his girlfriend Elisa. I really enjoy having fun with them. I also consider Maxime as my husband. :D <3

Camera: Polaroid SLR 680
Film: Impossible 600 BW Silver Frame (2013, not expired)
Year: 2014
Info: shielded, flash on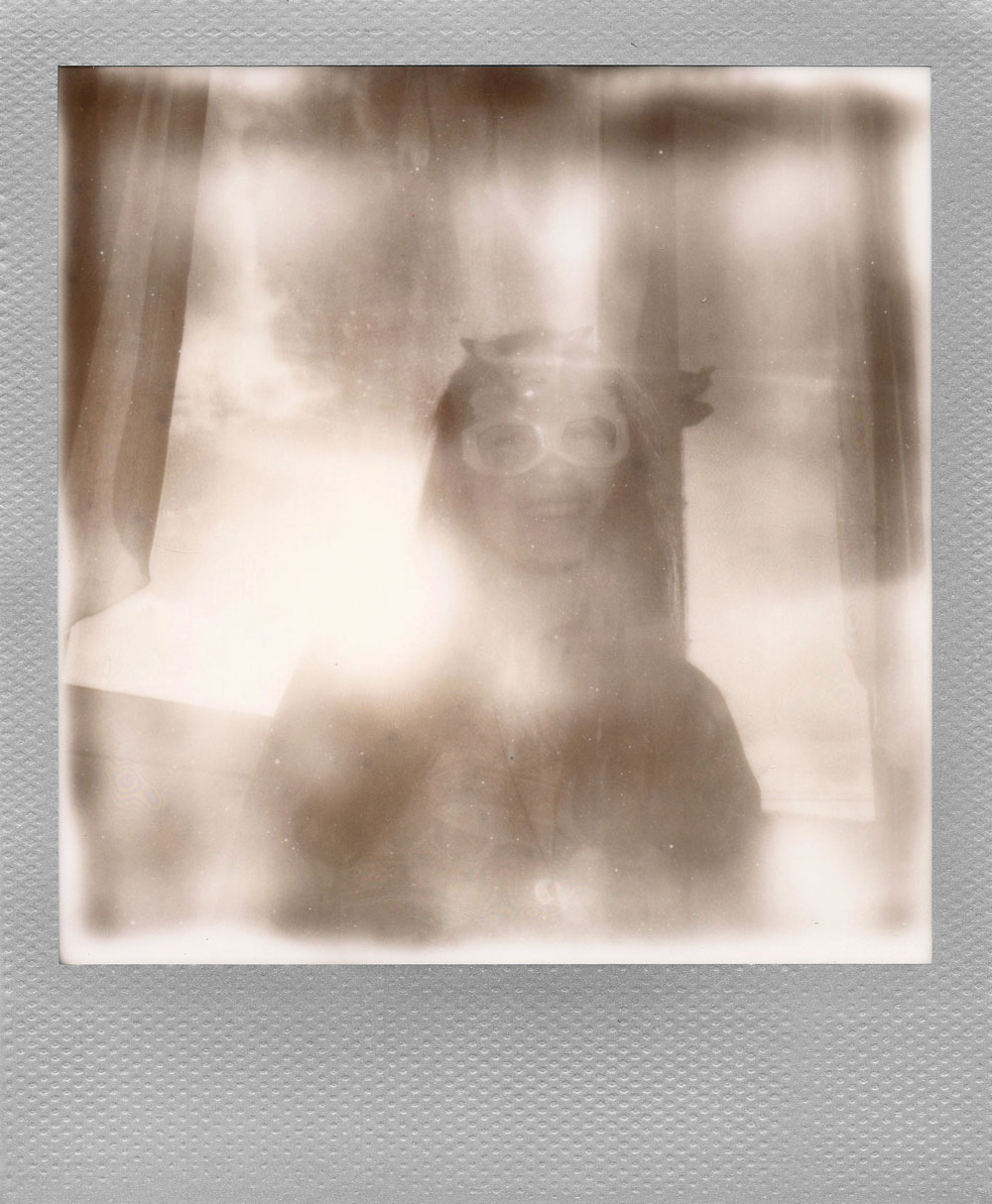 7. Fading away

Camera: Polaroid SLR 680
Film: Impossible 600 BW Silver Frame (2013, not expired)
Year: 2014
Info: unshielded, flash on, indoors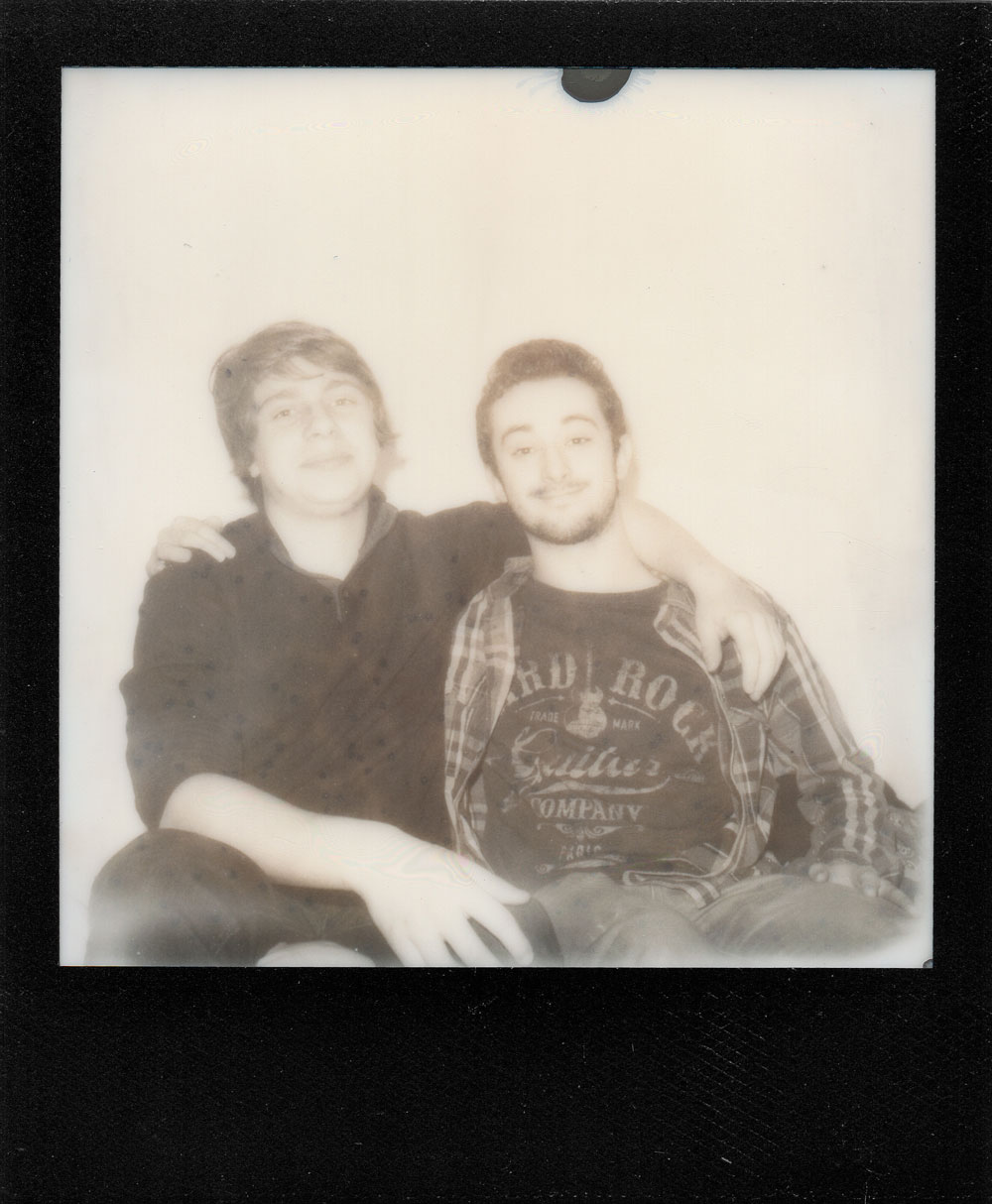 8. This photo was taken during a party with my friends. I had my bed on a mezzazine and I installed my Polaroid on a tripod with the lens oriented up to the bed. We were sitting on the mattress with the feet in the air and my other friends would press the shutter button to snap the photograph. I don't know why but my camera chose to over-expose this series of portraits. It looks like we are in the middle of nowhere! Magical times.

Camera: Polaroid SLR 680
Film: Impossible 600 BW Black Frame (2013, not expired)
Year: 2014
Info: shielded, defective camera, flash on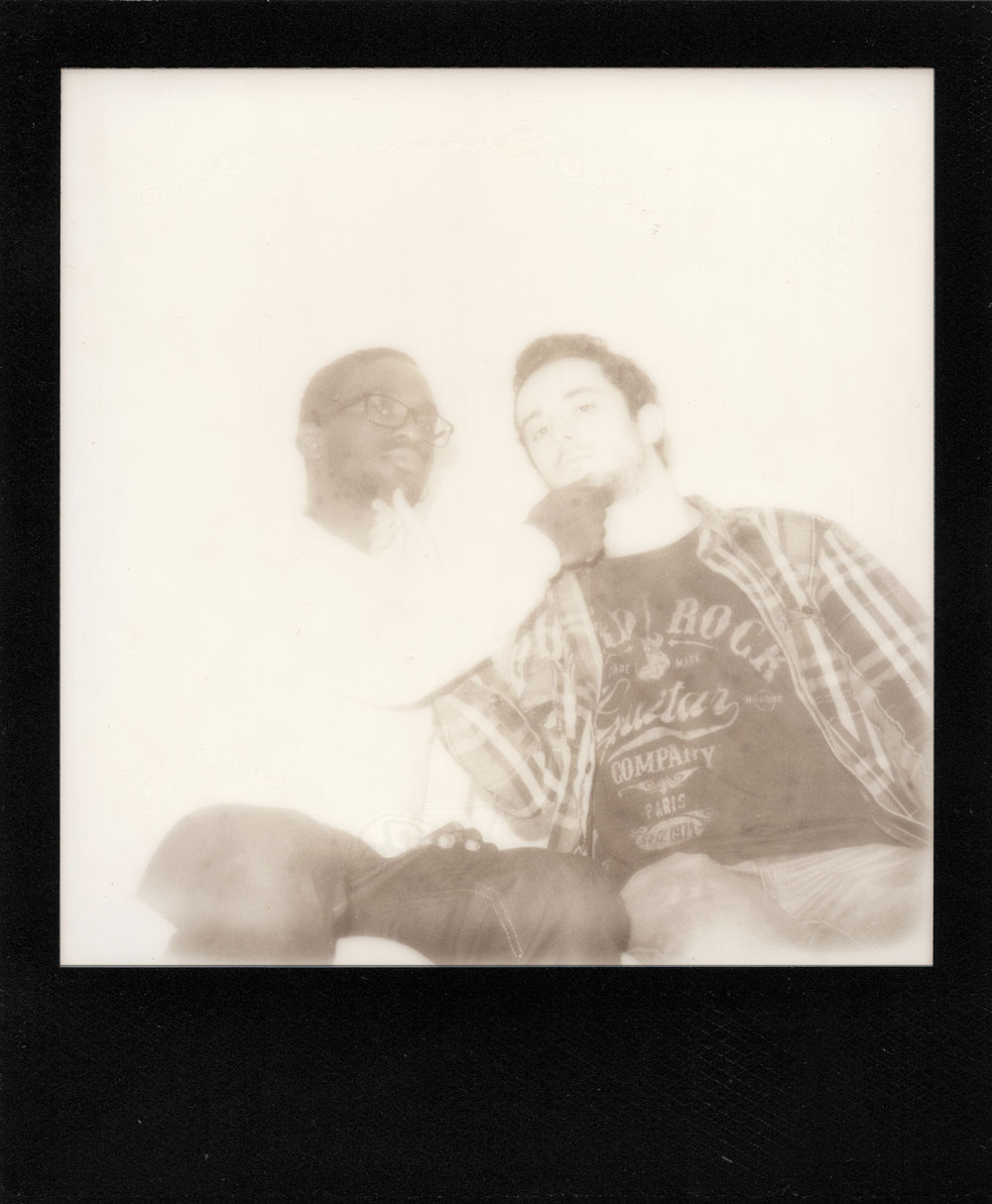 9. "Je te tiens, tu me tiens, par la barbichette… le premier de nous deux, qui rira, aura une ta-pette !" Same effect as the previous photo! Doesn't it look amazing? :D

Camera: Polaroid SLR 680
Film: Impossible 600 BW Black Frame (2013, not expired)
Year: 2014
Info: shielded, defective camera, flash on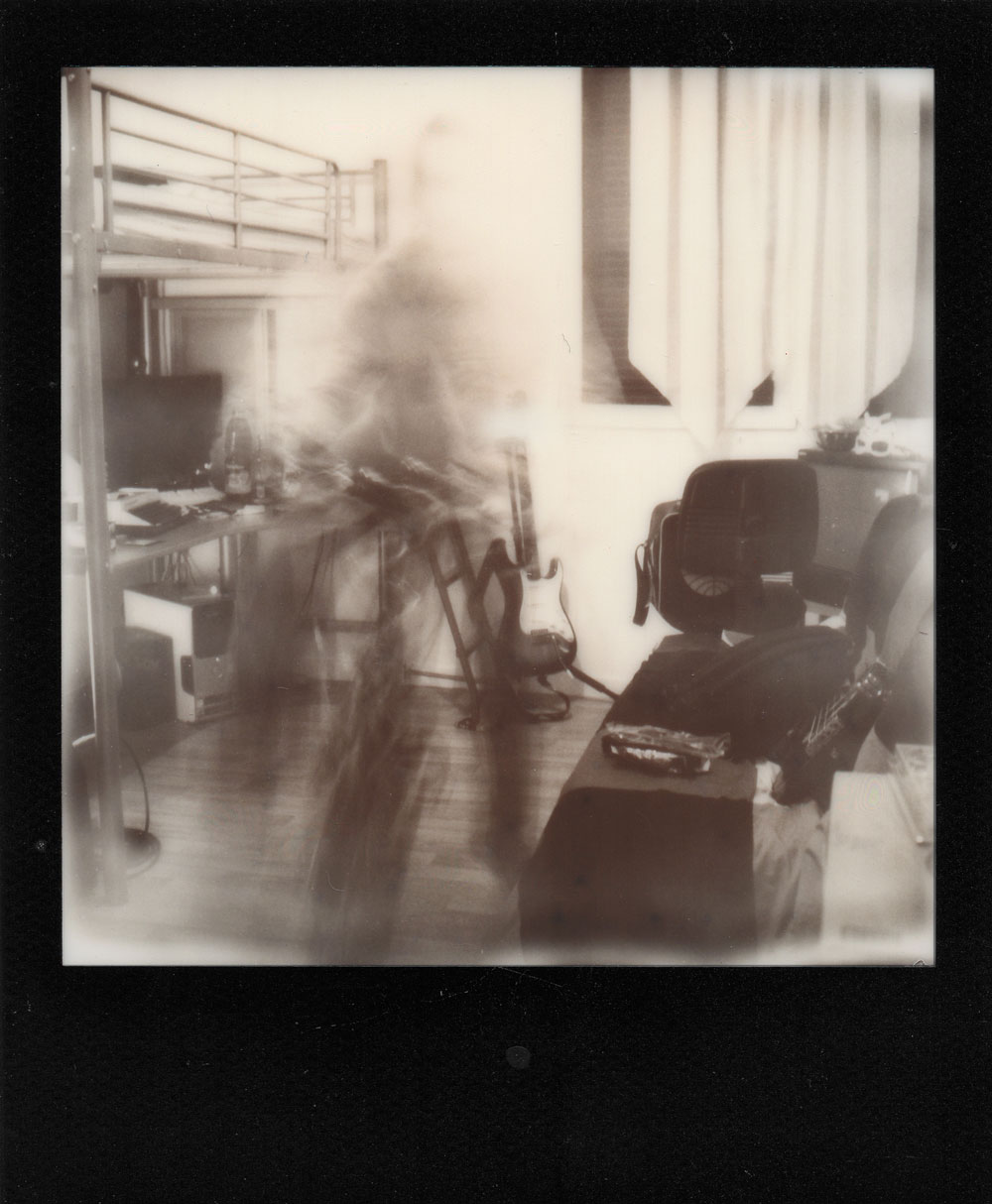 10. Well. Don't ask me why I wanted to do this shot. But I have the wired remote shutter button and I wanted to try to shoot me while I would be standing, without moving, on my bike. It was ay night so the ambiant light was somehow very poor. The camera was on my tripod and I set the camera so that the flash would fire. But at that time, my camera started to be defective and the flash swtich wasn't working very well… It didn't fire. That's funny, because of that, I look like a ghost while the rest of the things in my flat is pretty clear and sharp!

Camera: Polaroid SLR 680
Film: Impossible 600 BW Black Frame (2013, not expired)
Year: 2014
Info: shielded, defective camera, flash should have worked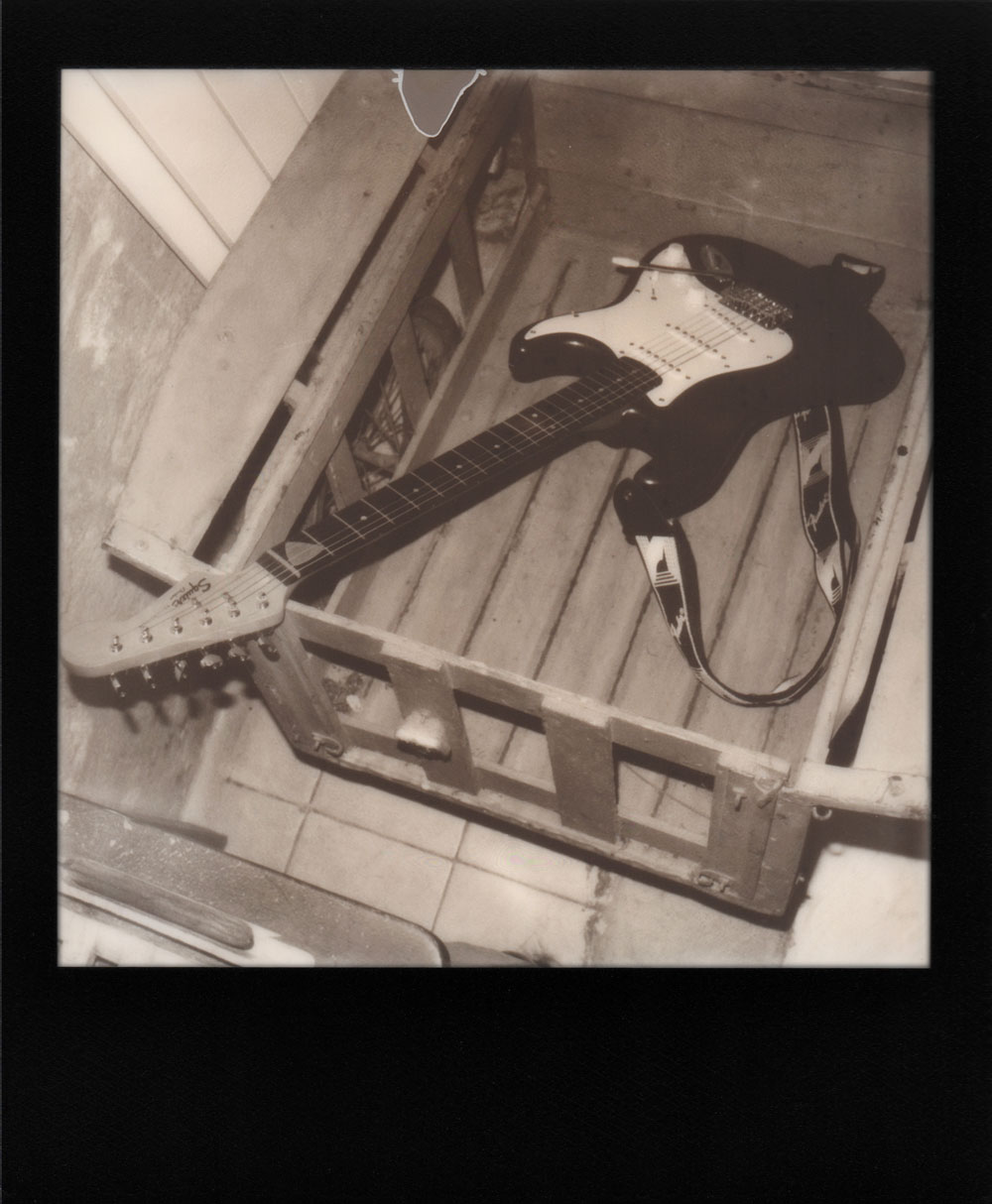 11. Il faut pas mettre la charrue avant la Stratocaster ! Random photo.

Camera: Polaroid SLR 680
Film: Impossible 600 BW Black Frame
Year: 2014
Info: shielded, flash on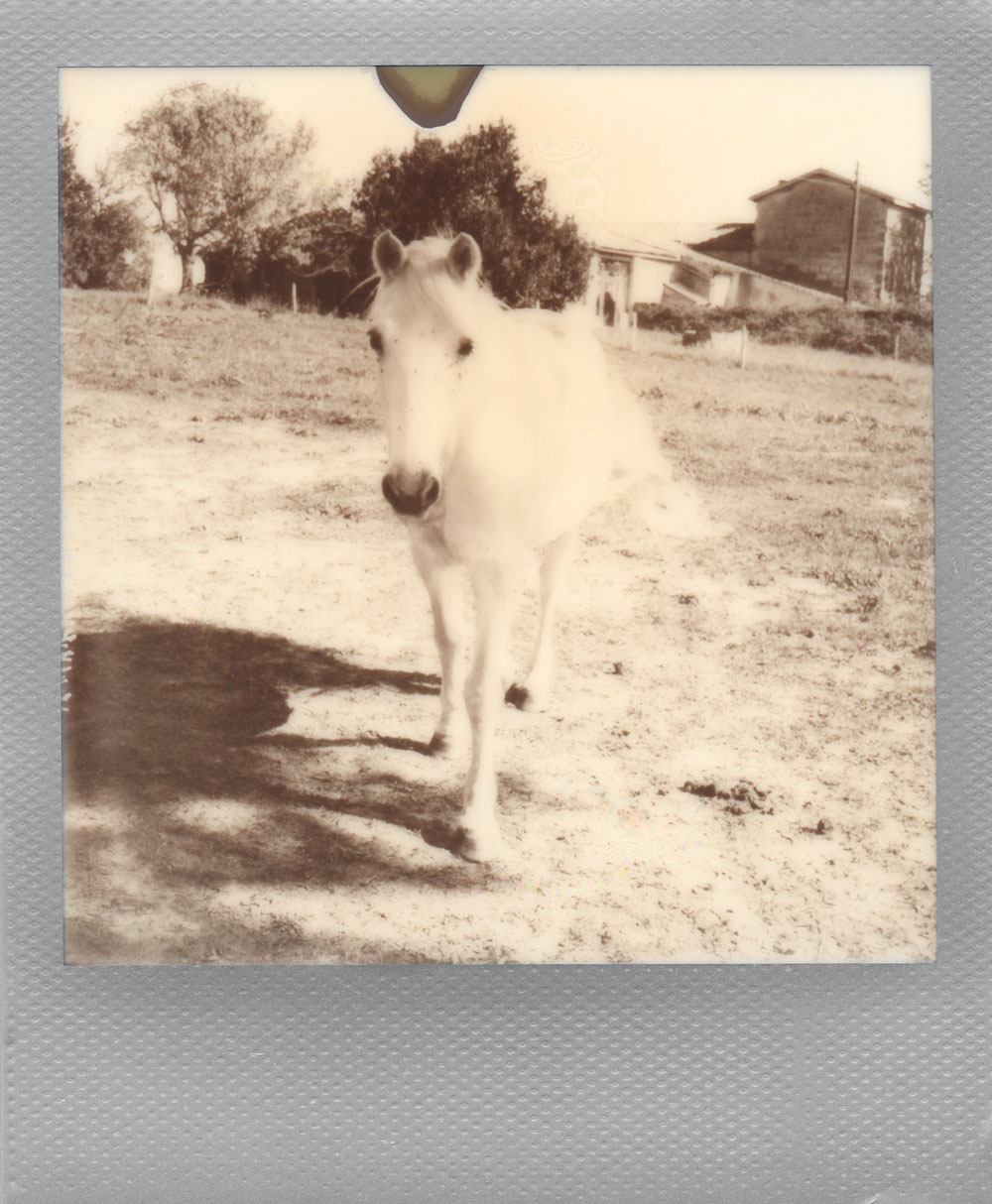 12. Hello sweet pony, how are doin', buddy? (:

Camera: Polaroid SLR 680
Film: Impossible 600 BW Silver Frame
Year: 2014
Info: shielded, outdoors with flash on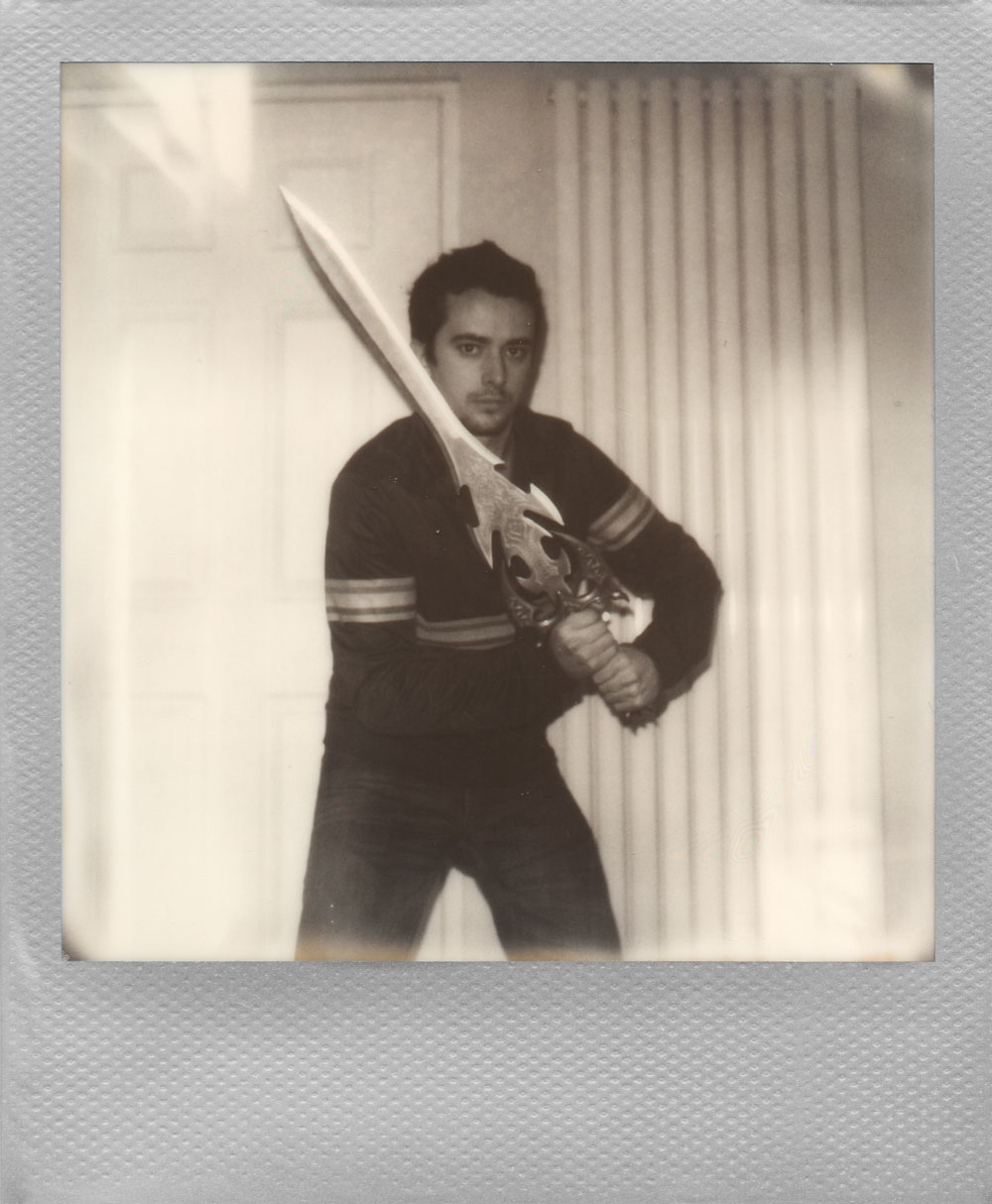 13. Another experiment again, here with my tripod and my remote shutter. The sword is for nothing, really (but helped to make a cool shot). My experiment was to let the photograph develop in hot water and another one in hot Coke. The photograph in Coca Cola turned very yellow and the film solarized. This one was in the hot water. While the development was super fast (less than 2 minutes !), it made the "white" staying pretty white compared to the rest of the pack. I tried this method later on a newer Impossible B&W film but it totally failed. Do not waste your film. :)

Camera: Polaroid SLR 680
Film: Impossible 600 BW Silver Frame
Year: 2015
Info: shielded, no flash, photo developed in hot water, didn't turn sepia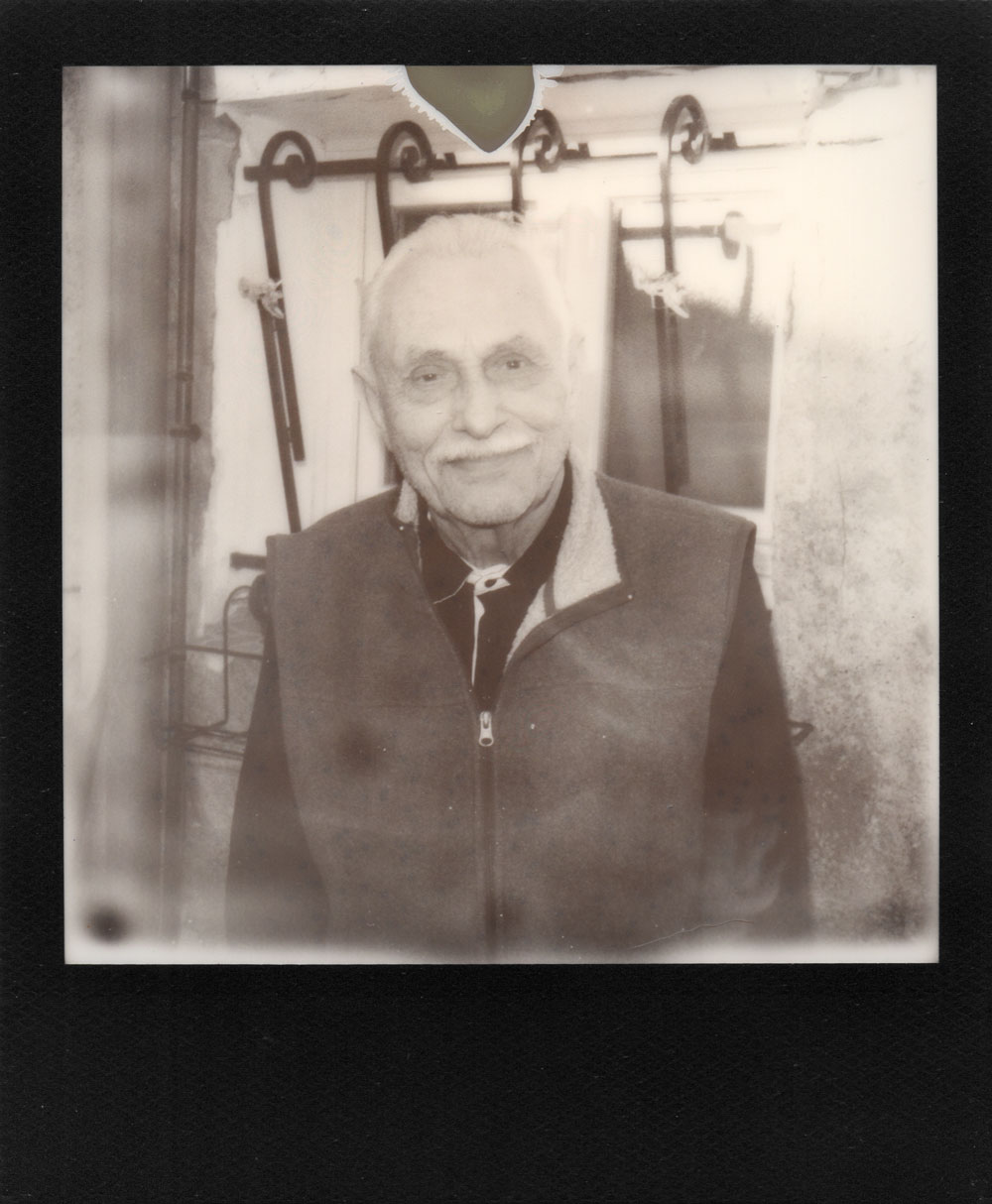 14. One year and a half after my first b&w instant shot of my grandpa, I had to take a new one, showing him the improvements made by the team on their film. Isn't he lovely? <3

Camera: Polaroid SLR 680
Film: Impossible 600 BW Black Frame
Year: 2015
Info: shielded, flash on, outdoors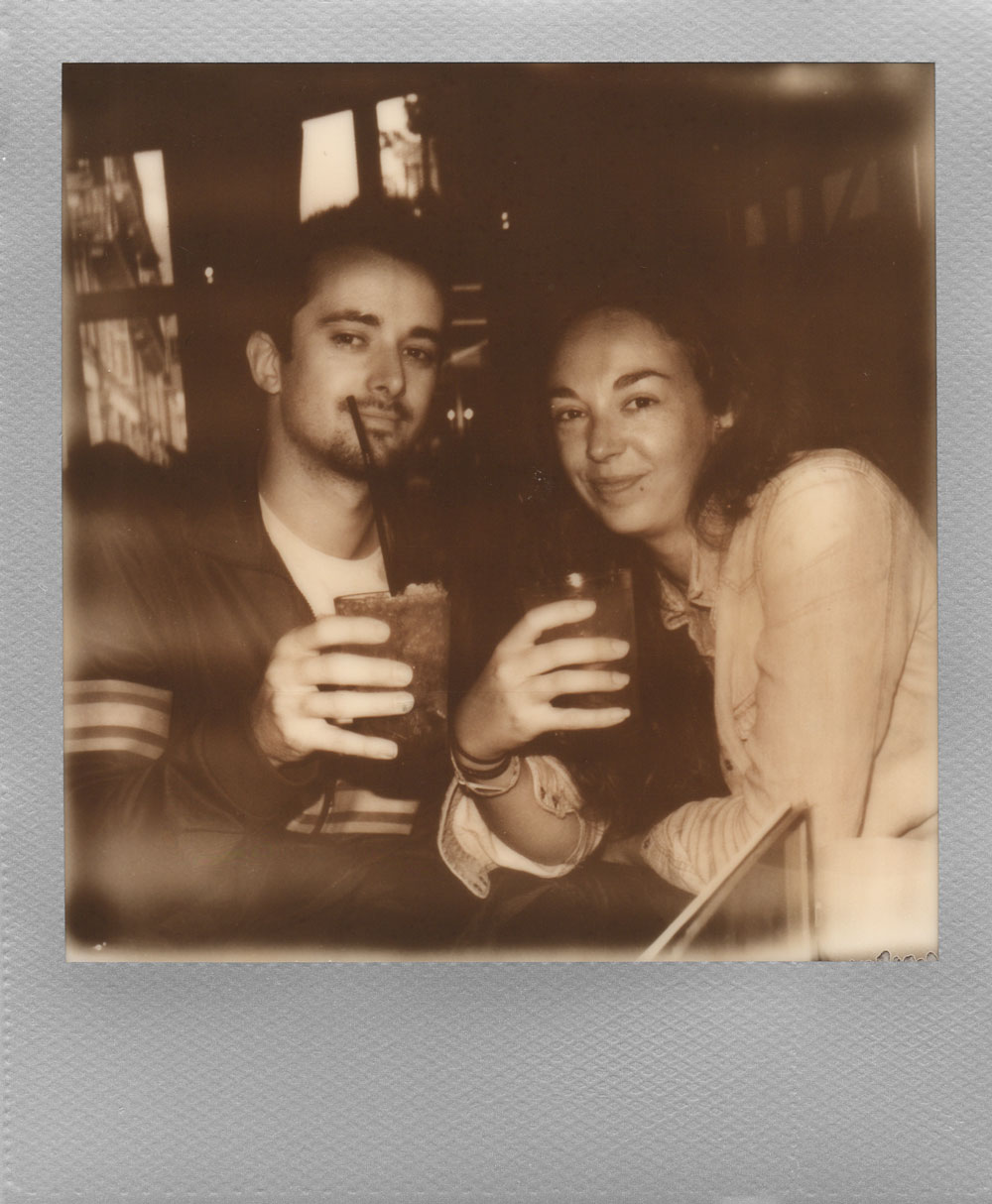 15. This is a rare instant photograph of my sister and I. Since I've been shooting instant film, we didn't had a lot of time to share together because she has been… worldwide! Once again, I love how the tones turned out. Sweet Sepia. Cheers!

Camera: Polaroid SLR 680
Film: Impossible 600 BW Silver Frame (expired)
Year: 2015
Info: shielded, flash on, indoors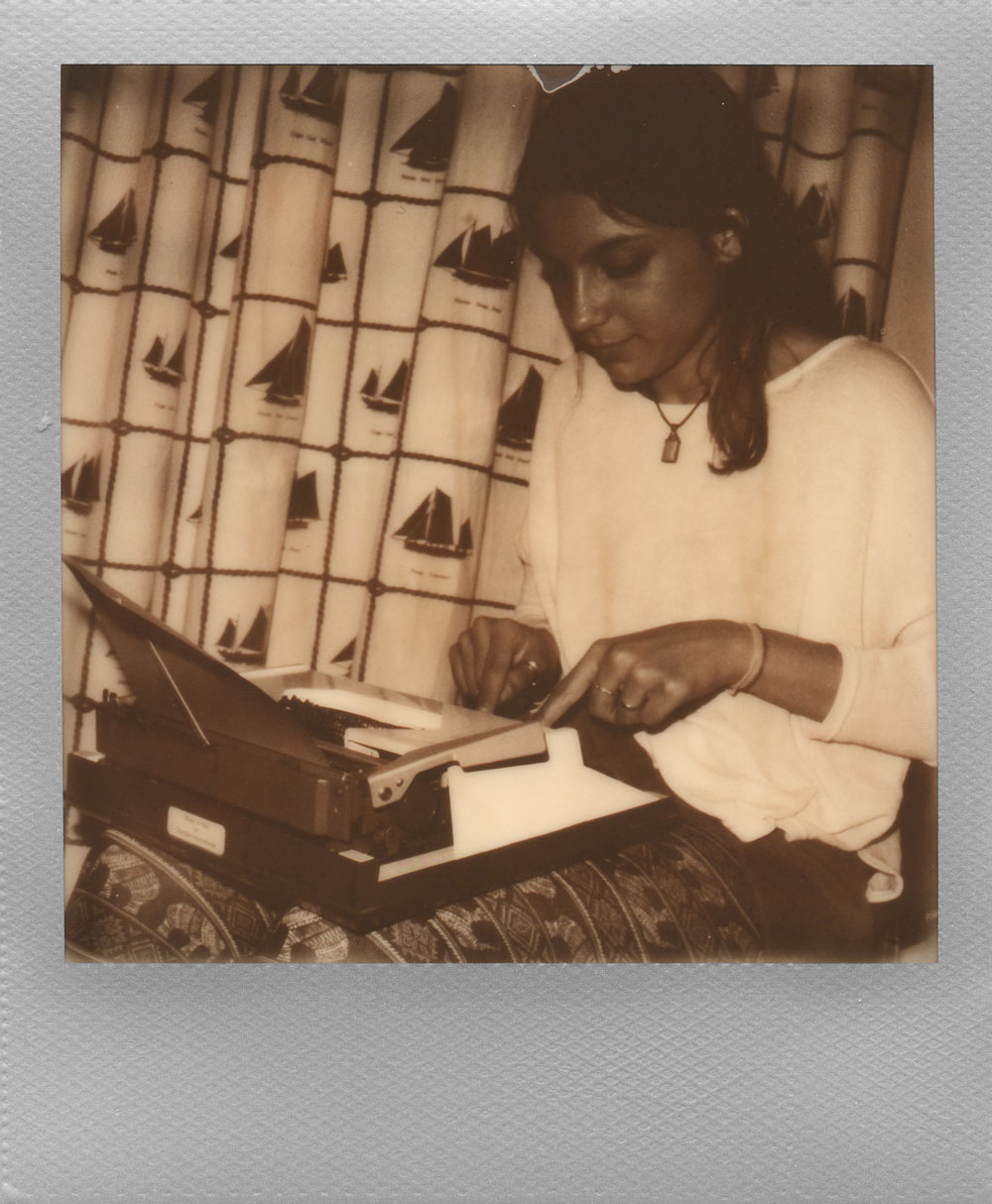 16. Cristina! :D One of the friend I made while I was working for six months in Disneyland Paris. She's from Lisboa, Portugal. That girl is really funny and sweet. She offered me Portuguese wine and lasagna for my birthday, and she wrote me a list of places to visit as soon as I would go to Portugal, using my typewriter. Thank you; Cristina :)

Camera: Polaroid SLR 680
Film: Impossible 600 BW Silver Frame (expired)
Year: 2015
Info: shielded, flash on, indoors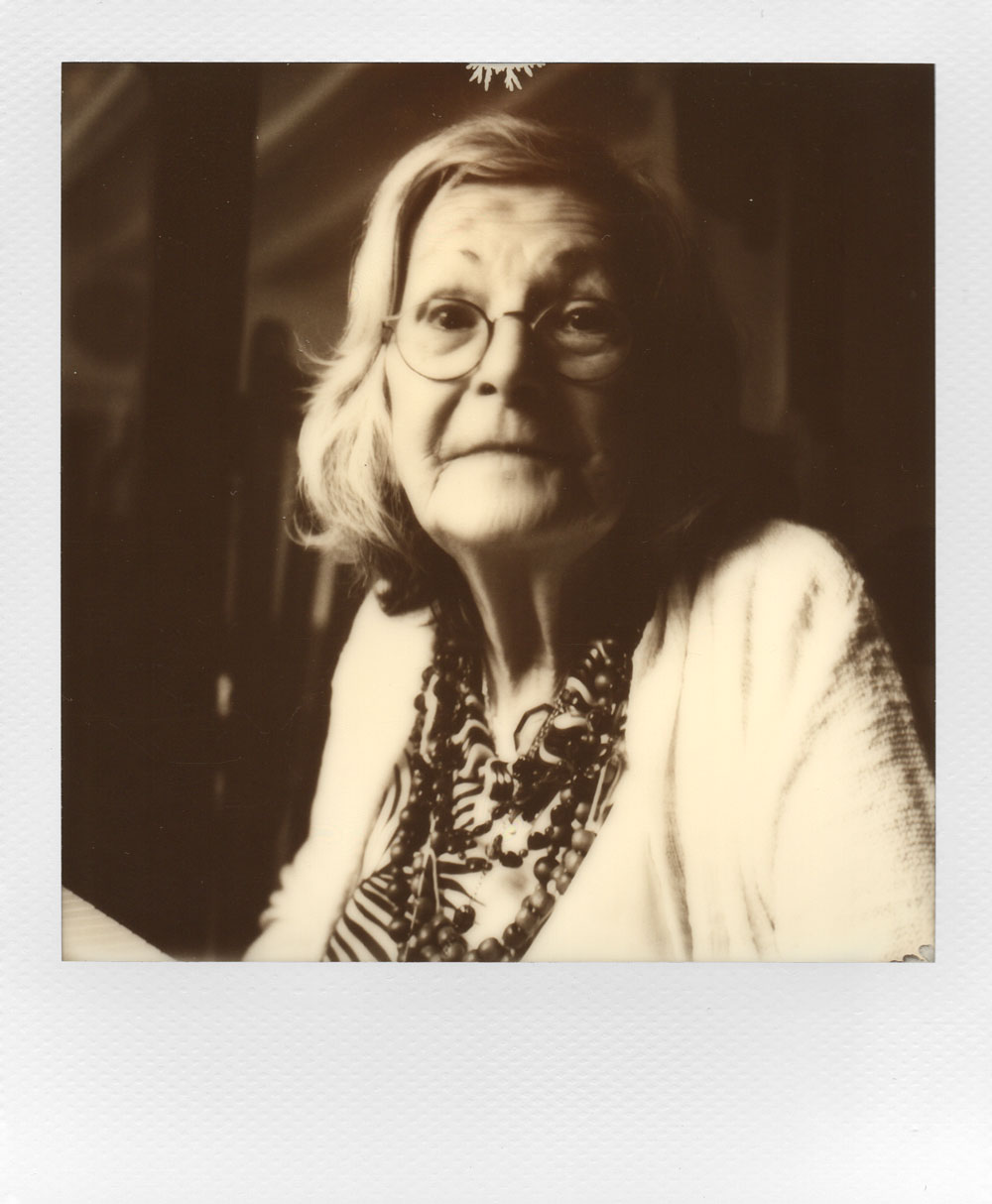 17. Grandma playing the piano, posing for my first photograph of her ever. And one of my favourite photograph for sure! Totally worth it. What do you think of Gen 2.0 Impossible B&W film? To me, it digs all the previous iterations. That film is a killer!

Camera: Polaroid SLR 680
Film: Impossible 600 BW Gen 2.0
Year: 2015
Info: shielded, indoors, without flash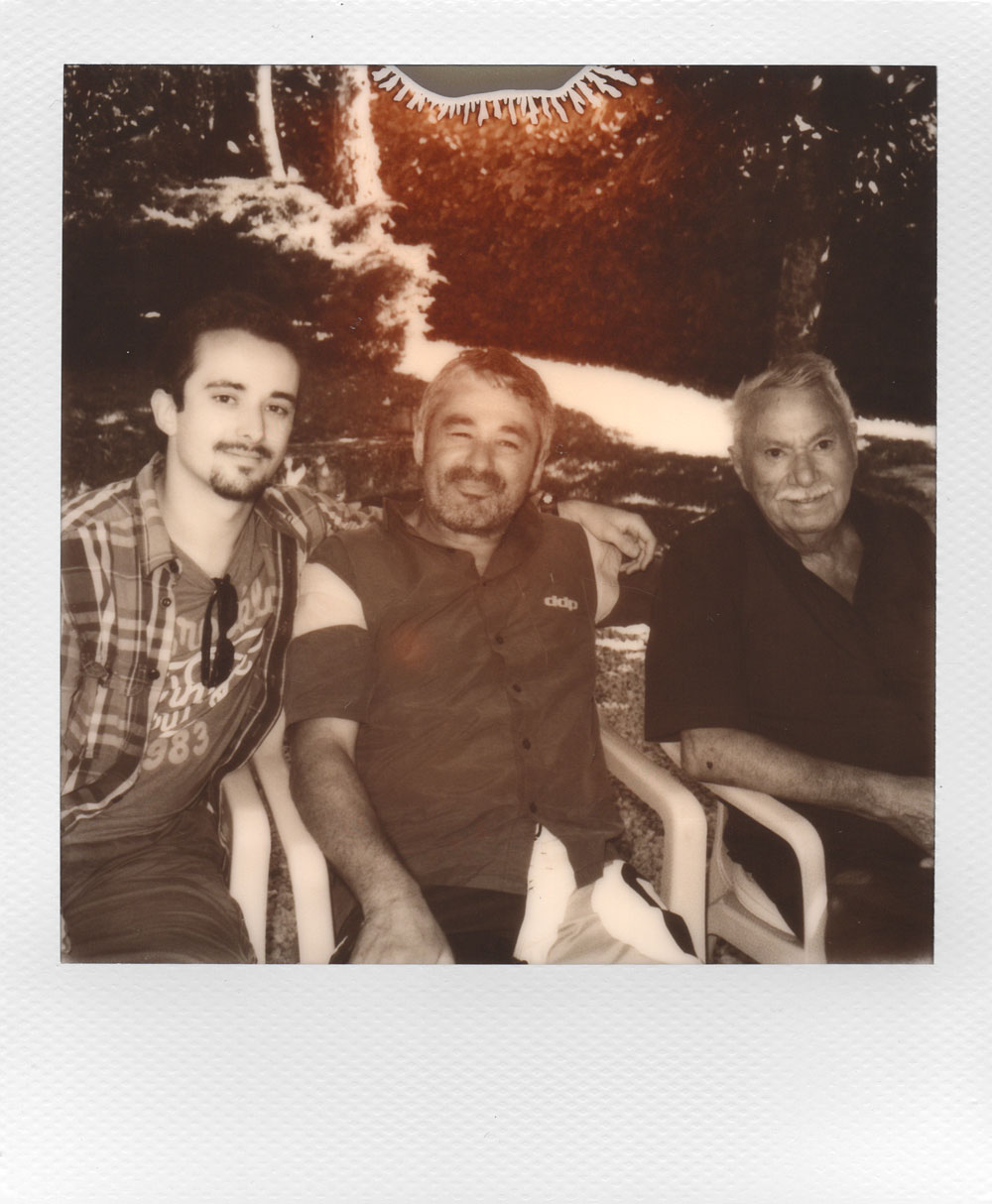 18. The three generations. Starring me, my father and his father, my grandpa. Something like a Sun decided to appear on the photograph. Impossible film can really be impressive.

Camera: Polaroid SLR 680
Film: Impossible 600 BW Gen 2.0
Year: 2015
Info: shielded, outdoors with flash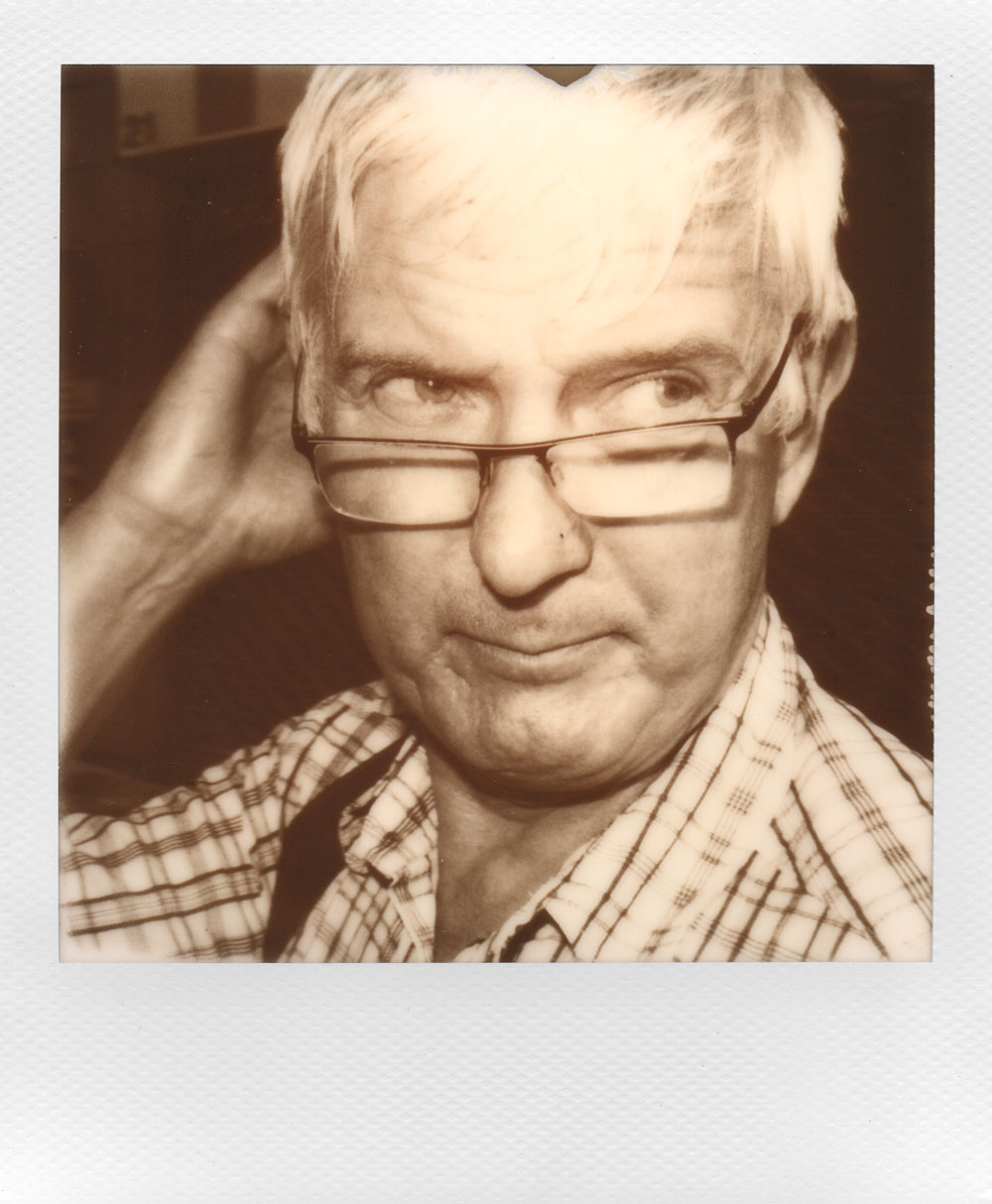 19. Welcome back, Ian Fleming! This shot was taken without preventing him of it! It turned out pretty natural, which I like, and the camera behaved super well! I'm very happy of it. Thanks, Ian! Sorry for your eyes :p

Camera: Polaroid SLR 680
Film: Impossible 600 BW Gen 2.0
Year: 2015
Info: shielded, outdoors, with flash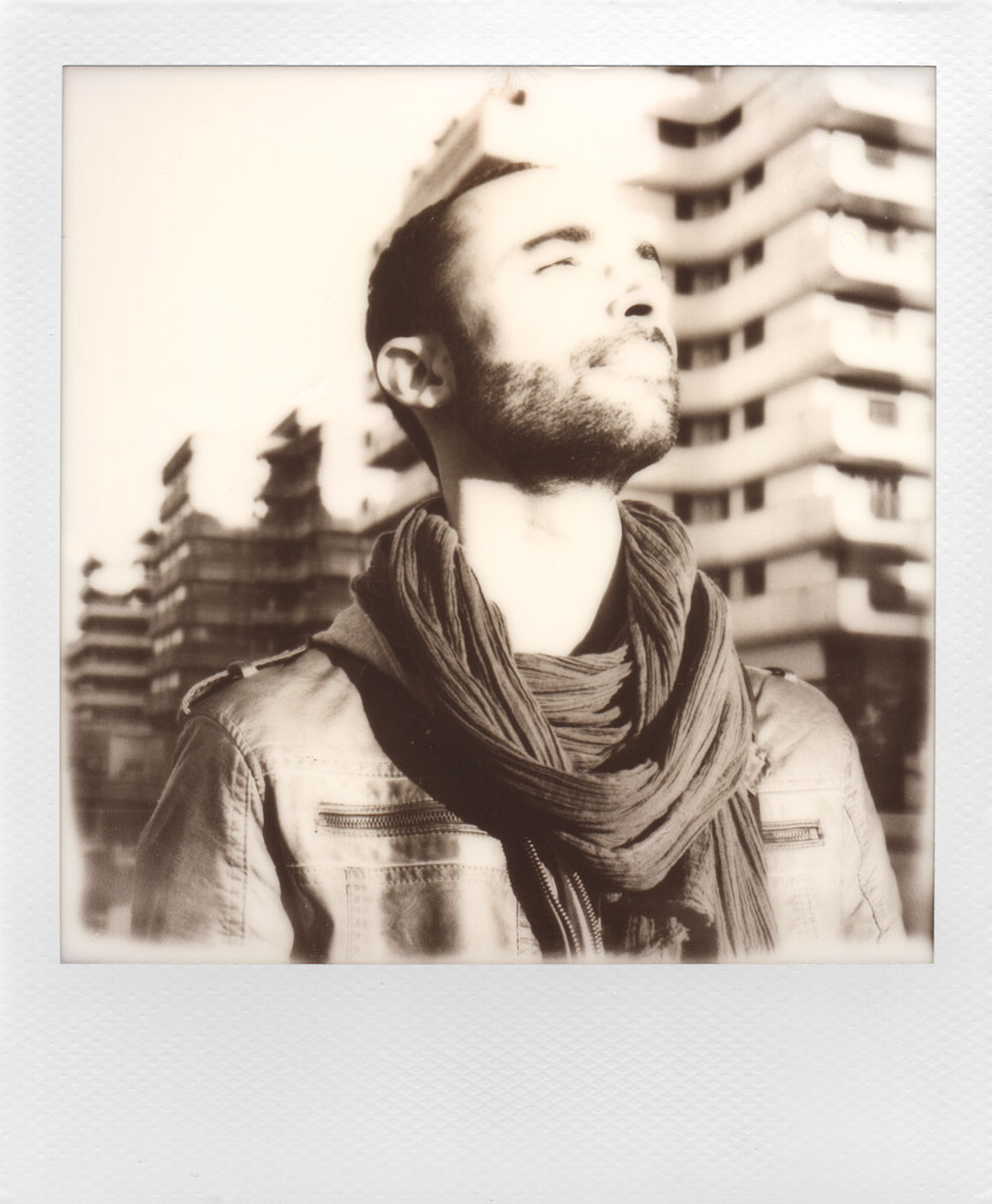 20. And this is my most recent (scanned, at least) black & white portrait, featuring Jérémie, in Bordeaux. I quickly set my Polaroid camera on the tripod as the Sun was going down. I took some times to adjust it, not too much because Jérémie was going blinded by the Sun, and finally decided to shoot. Thank you for your time, my friend! I really like my photograph here.

Camera: Polaroid SLR 680
Film: Impossible 600 BW Gen 2.0
Year: 2015
Info: shielded, outdoors, without flash

—


Cameras: Polaroid 636 Talking Camera & Polaroid SLR 680
Films: Impossible PX680 Silver Shade (discontinued), Impossible 600 BW (discontinued) & Impossible 600 BW 2.0 — available at The-Impossible-Project.com

Story of the instant film: It's been two years of shooting Impossible Black & White instant films! As you can through my photos, the film has never been the same. That's what I found interesting with The Impossible Project; their film is never going to look and give the same. Sometimes I will love; sometimes we will hate. That's part of the game, but globally it's been some kind of crazy and nice times! I'm proud to be part of this new instant film generation. Thanks to the work of the team, hardly working in the last Polaroid factory, in Enschede, Netherlands, doing their best everyday to make a new and better film. Also to the team in Berlin, Germany, for sharing the work of people using their product.

If you have any question about shooting their film, feel free to ask on Twitter!


Place: France, from Gironde (33) to Seine-et-Marne (77)
Time: automn 2013 to automn 2015